WHAT TO EXPECT DURING A DETOX & HOW TO EASE SYMPTOMS

New to detoxing? Here's what to expect the first time you do a cleanse. Plus, tips on how to ease symptoms and reach your health goals.
Are you planning to do a detox or a cleanse? Hooray! We're so excited for you. In just a few days you're going to feel amazing.
For beginners, detoxing can feel intimidating or overwhelming, but it's actually easier than it seems. Here's what you can expect during a detox and how to ease symptoms.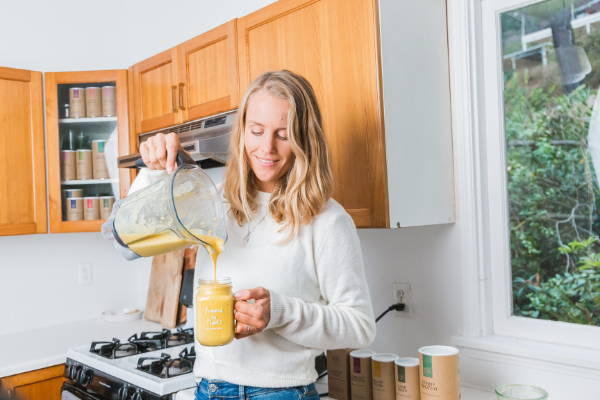 WHAT TO EXPECT DURING A DETOX

When you cleanse your body or follow a detox, you're optimizing the function of your body's detoxification systems. Results vary from person to person based on a number of factors including your current diet, health conditions, and the type of detox you are doing.
Detoxers often experience increased energy levels, better digestion, clearer skin, overall better mood, improved sleep, weight loss, and reduced sugar cravings — just to name a few.
During a detox (like the Your Super 5-Day Detox), you may experience these common side effects: headaches, bad moods, getting a cold, feeling tired, or skin breakouts. But, don't worry....this is a sign your body is releasing toxins which means your body is functioning properly and the detox is working!
Follow the steps to alleviate these symptoms and learn tips to navigate your detox with ease.
HOW TO EASE DETOX SYMPTOMS

First and foremost, make sure you drink enough water to ease your symptoms. A great way to kickstart this healthy habit is by infusing your water with fresh fruit. You can learn more about that here.
Here are a few helpful tips to help you address any side effects you experience while detoxing.
Headache 
Headaches are your body's way to tell you it's "missing" something. For instance, you may get a headache when you don't drink enough water, therefore your body will send you a signal (a headache) to remind you to hydrate. When you detox, headaches often occur because your brain is in search of sugar or caffeine. This is a sign that your body is functioning properly, but it doesn't always feel great. To get rid of your headache naturally and quickly, inhale peppermint oil by adding it to the temples of your forehead or across your hairline and neck. You can also add a few drops to a warm bath. Drinking water will also reduce this symptom.
Fatigue
Purging toxins takes a lot of internal work. On the outside, you're eating and drinking your way to better health but on the inside, your body is working hard to get rid of anything that doesn't serve you. Don't worry, this too shall pass. In the meantime, go for a short walk outside or meet up with friends and connect with people you love. This is a great way to boost your natural energy.
Breakouts
The skin is your body's biggest organ — and it's the body's first line of defense in keeping out harmful toxins, such as chemicals and heavy metals. Drink plenty of water to help your body cleanse itself from the inside out. Give yourself a facial or relax with a 5-minute mask to reduce the symptoms. Remember to trust the process, clearer skin is on the way!
Mood Swings
Is a lack of coffee and sugar making you cranky? Your body gets irritated when it doesn't get what it wants, but soon it will realize it is better off without those things. Trust us! Take time out to meditate or repeat positive affirmations. Try breathing exercises or a hot bath to reduce your stress and boost your mood.
Feeling chilly
This immune response will send shivers down your spine, but there's plenty of solutions to fight back against chills during a detox. Drink a cup of herbal tea to warm you up or sip on hot lemon water. The best thing to do? Cuddle up! Throw on your favorite cozy sweater or wrap yourself in a blanket. It's comforting and beneficial. What is better than that?
Nausea
Withdrawal symptoms are normal during a detox but when it comes to nausea, this side effect can be the hardest to navigate. Drink ginger tea to ease your nausea and settle your stomach. If your symptoms do not improve, you may want to pause the detox or ease into the program instead. Don't give up hope. Focusing on changing your mornings with a big green smoothie is a great solution.
Always listen to your body. It will tell you what you need to know and how to move forward so you can reach your health goals.
NOT SURE IF A DETOX IS RIGHT FOR YOU?

Ask your questions below!
Support your health with The Detox Bundle! This bundle includes 3 powerful, superfood mixes designed to
reduce cravings, increase energy, reduce bloating and fight inflammation.