YOUR SUPER SUCCESS STORIES: TSE's DETOX JOURNEY
We spoke with Tse, an inspiring Your Super foodie who has noticed significant improvements in her health since she began eating superfoods. Read on to learn how superfoods cured her eczema, improved her sleep, and inspired her to go plant-based! Plus, Tse shares her favorite Golden Mellow smoothie recipe.
If you're new to superfoods or plant-based eating, you know how intimidating it is to get started. There is so much information out there, and lots to learn about what works for you and what doesn't. Improving your health is a journey full of ups, downs, victories, pauses, and sometimes a little self doubt. We've all been there! Which is why it's important to have a support group.
The Your Super Exclusive Member Group is the perfect place to ask your questions, be inspired, and connect with other people who want to improve their health. The discussion section is filled with helpful suggestions and inspiring success stories from members across the globe. If you're already a member of the group you may recognize the name Tse Kleszczewski! She can be found encouraging others and sharing awe-inspiring photos and recipes.
We wanted to learn more about Tse's health journey and how she incorporates superfoods into her diet. Here is what she had to say: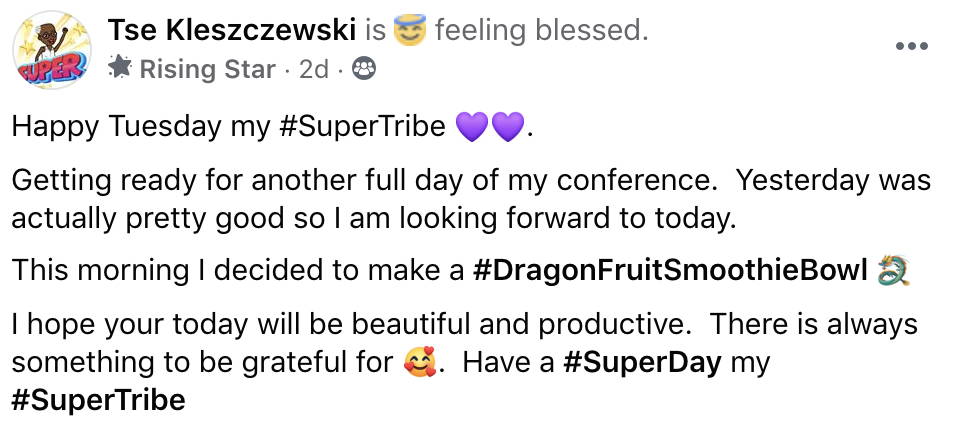 Tell us a little about yourself.

I am a 38-year old, born and raised in Jamaica who immigrated to the US In 2009. I am a high school computer science teacher at an Arts High school in Chicago. I am a wife to an amazing man and an owner of two wonderful pit bulls. I am now fully whole foods plant-based and loving it! (2 months!) I enjoy cooking, making smoothies, meeting new people, walking, bike riding, hiking and working out. Over the past few months I have grown very passionate about overall health and the whole food plant based lifestyle.
How did you discover Your Super?

I think I was searching google for a plant based protein that was organic and Your Super came up. Maybe a little over a year ago I started a low-carb, high-fat diet, I quickly realized it was not sustainable. About a week before starting the mixes I convinced a group of my friends to do a meatless Monday after which I was going to continue the entire week without meat. My body was just telling me...I just need a break, so I listened and now, 2 months later, I'm still listening and I still haven't had meat since that day.
How has your health improved since using Your Super?

When my mixes came, I did the detox and felt AMAZING. I didn't experience headaches and irritability. Since then, I have made a smoothie every single morning (and about 3 weeks ago my hubby asked me to make him one before work.)
Since using the mixes, I have noticed that my eczema (started in my late teens) is practically gone, my skin feels and looks better overall, I sleep better and I feel less tired too. I have also lost about 10 pounds.
What are your favorite mixes and how do you incorporate them into your routine?

I really like ALL the mixes, but if I had to choose one it would be Golden Mellow. If I am to be honest, I would never drink anything with turmeric before trying the Mellow Yellow mix. Now I love it because it is very versatile (cold morning tangy smoothie, hot afternoon porridge, iced latte and my fave a warm latte before bed).
Do you have any advice to others about starting a healthy lifestyle?

This lifestyle is THE BEST thing you can do for yourself. You will feel better, sleep better, feel less bogged down, improved skin, and overall better health.
Tse's Mellow Yellow Tropical Sunshine Smoothie Recipe

Ingredients:
️1 cup homemade cinnamon vanilla almond milk

️1 tbsp Plant Protein mix
️1 tsp Golden Mellow mix

️1 banana

️1/2 cup mango

️1/2 cup pineapple

️1/4 cup passion fruit

️Knob of ginger root (About 1/2 inch)
Directions:
Blend, sprinkle chia seeds on top & enjoy!
We are so happy to have people like Tse in the Your Super community. We founded Your Super to encourage others to improve their health, and having a space where members can support, inspire, and connect with each other is what we're ALL about!
Interested in joining the Your Super Exclusive Member Group? Click here to get exclusive content, recipes, and connect with other Your Super foodies!
Support your health with The Detox Bundle! This bundle includes 3 powerful, superfood mixes designed to
reduce cravings, increase energy, reduce bloating and fight inflammation.