THE 4 BEST MOMENTS OF OUR LAST COMMUNITY DETOX

A few times a year, Your Super members and staff take part in a community detox. Read about their experiences and the 4 best moments of the last group detox.
A few times a year, hundreds of people (from all over the world!) participate in our community 5-Day Detox. It's a great time to reset your health while getting helpful tips and support from the Your Super community.
It's also an opportunity to interact with Your Super founders Kristel and Michael, who join in on the detox and show you how to make detox-friendly recipes on Facebook live.
As we gear up for our next group detox, we wanted to take a moment to look back on some of this year's best moments. Here are some of the highlights…
---
#1 ANGELA GOT HER HAPPINESS BACK

"Congrats to everyone who did the 5 day detox this week! This was my first time. I was in the hospital in March with coronavirus for 5 weeks, I'm lucky to be here. Previously I was active, slim, and had a good relationship with food. Unfortunately I was left with heart failure and they also discovered I have a rare autoimmune condition. It's been a slow recovery. I now take a cocktail of drugs including Prednisolone. The side effect is weight gain, I put on over 2 stone. So for me the detox was about resetting. I know I have been comfort eating. I wasn't expecting a miracle in 5 days. I found that I have lost a few kg's and feel less bloated. It's been great to set myself this challenge which I thought I would give up by day 3. I didn't. If anyone is doubting if they can change their habits in 5 days ... I'm proof that you can. I woke up today feeling really happy."
#2 RHONDA TRIED SUPERFOODS FOR THE FIRST TIME

"I did the detox (and my first experience with Your Super) last week. This week I have introduced other foods back but have stayed close to the detox diet and have kept away from caffeine, alcohol and dairy. I go to the chiropractor weekly for pain management with stiffness and inflammation and today my chiropractor was blown away at the difference in my body as am I. He said, KEEP DOING WHAT YOU ARE DOING WITH YOUR DIET this is amazing. What I notice most is my mood stabilization and the reduction in pain and stiffness. My belly is flatter, less bloating. I am a single parent of three teens so the food habits (exaggerated by quarantine) in our house have been less than ideal for anyone, let alone a middle-aged, post-menopausal woman. Thank you for the structure."
#3 CATHERINE STARTED GLOWING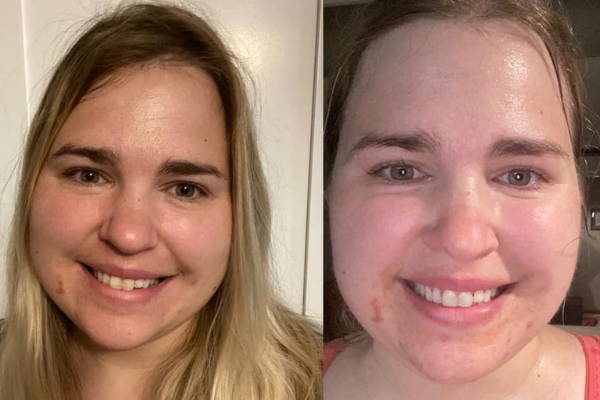 "Detox done! Left is today, right is Monday before I started on Tuesday. Both pics are head on without any flattering angles or make up haha! Lost 5 lbs on detox and since I started incorporating Your Super smoothies twice a week since 2 1/2 weeks ago (5 being detox), I lost 10lbs so far! Going to keep up my YS smoothies, and continue with no soda, processed juice, and cut down on almost all processed sugar and food."
"What a journey this detox was. I hope you will read this long post. This is the last day (I am drinking the last smoothie as I write this). I thought I wasn't going to make it Tuesday night after suffering a migraine-like headache for 24 hours and excruciating pain in my left shoulder blade. Instead of quitting, I asked myself, "What is the pain symbolizing?" - clearly my need to detox what is not good for me and to listen carefully to the signs my body, mind and soul were giving me.
Taking care of my emotional, bodily and mental needs has been a rollercoaster my entire life and I am determined now to find a more balanced way of living. This detox really showed me how important it is to take care of my emotional needs seeing as I had nothing to numb them with. Rest of the detox went quite well and for the last two days, I feel more uplifted, lighter, my skin looks amazing (great bonus) and I am ready to continue on the path of being more healthy and balanced.
Thank you 'Your Super' and this group for all the support, great recipes, and community.
I followed you closely from the sidelines but really wanted to write and express myself and my gratitude. I finally feel like I am a part of something bigger than just the "let's lose weight" group, or "let's push ourselves hard" group. For me it is all about balance and I am more than ready to follow that path more and more. For you who are considering doing the detox, I can only recommend it."
WANT TO JOIN THE NEXT GROUP DETOX?

Are you ready to make 2021 your healthiest year ever? We're excited to announce our first group detox of the new year is starting January 4th. But just in case that's not enough time for you to prepare, we'll have a second detox starting January 11th.

If you're not currently a member, make sure to join our Exclusive Member Group for lots of support, recipes, and resources!
---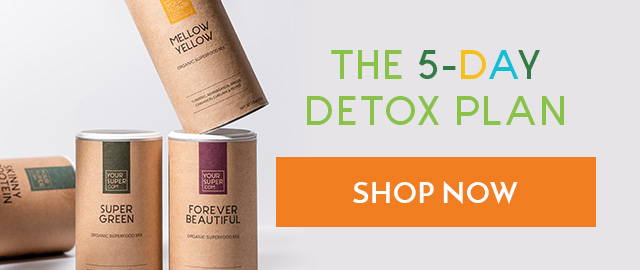 ---
---
Support your health with The Detox Bundle! This bundle includes 3 powerful, superfood mixes designed to
reduce cravings, increase energy, reduce bloating and fight inflammation.