3 WAYS TO CELEBRATE THE WOMEN IN YOUR LIFE

It's International Women's Day! We're breaking down 3 simple ways you can celebrate the women in your life today and every day.
Every day is a great day to celebrate women. (After all, where would we be without them?) But International Women's Day gives us an opportunity to honor their strength, power, and successes.
Not sure where to start? We've got you covered! There are plenty of ways to uplift women today. You can donate to an organization, praise the women in your workplace, or simply start a conversation about women's history.
But if you're looking for ways to praise the special women in your life, we have a few ideas that are bound to make them feel appreciated...
---
HOW TO CELEBRATE THE WOMEN IN YOUR LIFE

---
When was the last time you received a letter? If we could guess, it's probably been a few years. With texting, Facebook, and Instagram, it's more common to get messages in your inbox. But there's something so personal about a letter, and knowing that someone took the time to write it can make anyone feel special.
So, break out the pen and paper and get writing! You don't need to write a novel to let the women in your life know you're thinking of them, and if you have any photos together, you can add them to the envelope before sending.
With the pandemic preventing us from gathering in-person, it's been more and more difficult to stay connected with the ones we care about. And now that we're coming up on a year in lockdown, where everyone has reached their peak of emotional burnout and boredom, it's never been more important to check up on the women in your life.
Show her you care by scheduling a Facetime or Zoom date! You can make it more meaningful by sharing favorite memories, creating a slideshow of your favorite photos, or sending over her favorite treat. And if you plan far enough in advance, you can each make the same snack so it feels like you're really together.
GIVE THE GIFT OF SELF CARE

We all have that woman in our life that goes above and beyond for her loved ones but when it comes to self-care she falls short. For some, the act of self-care feels selfish and unimportant but research shows it's one of the best things anyone can do for their health.
So, what do you get someone who never treats herself? Well, anything! A new hand cream, bath bombs, or a soft blanket are thoughtful gifts that might remind her to slow down and enjoy some "me" time. And if she's a foodie or health lover, our Superwoman Bundle makes the ultimate self-care gift...
This bundle contains 5 superfood mixes designed to make every woman feel like a superwoman. Here's what it includes:
Moon Balance to balance hormones.

Chocolate Lover to improve mood and satisfy cravings

Energy Bomb for natural caffeine

Forever Beautiful to nourish skin from the inside out.

Plant Collagen to naturally boost collagen production

A FREE 7-Day program with delicious recipes, a grocery list, and a morning routine checklist
Right now, when you purchase a Moon Balance Mix or Superwoman Bundle, we'll donate 100% of the proceeds to the ZanaAfrica Foundation – a non-profit organization that provides young girls with the resources and education they need to safely navigate puberty.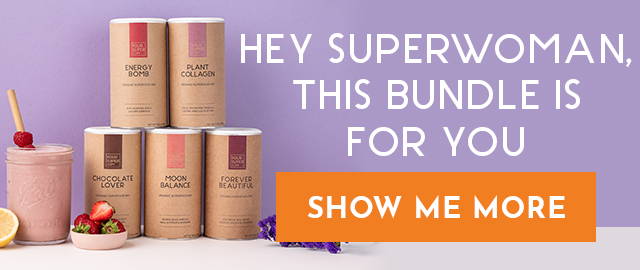 ---
CELEBRATE WOMEN TODAY, AND EVERY DAY

International Women's Day is so much more than a 24 hour celebration, this movement reminds us that women are building a future that is peaceful, supportive, creative, innovative and inclusive. So remember to honor women for their accomplishments, fight for equality, and recognize women's rights. And don't forget to celebrate yourself every, single, day.
---
---
---
Improve your health and hormones with the Superwoman Bundle! Includes a 7-Day Program to start feeling better every day.