THE AMAZING HEALTH BENEFITS OF CHIA SEEDS

Chia seeds might be tiny, but they're packed with nutrition! Read more about the powerful health benefits of chia seeds, and how to add them to your diet.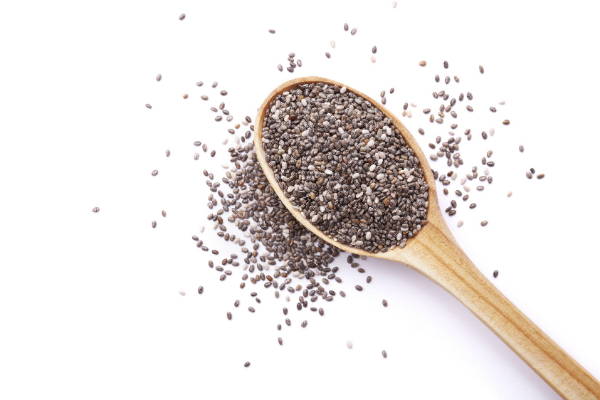 Ch-ch-chia became a household name in the 1980s thanks to those As Seen On TV grass planters. However, chia seeds date back as far as 3500 BC and they were a staple in the Aztecs' diet.
In Mayan, "chia" means strength, which makes sense considering chia seeds are one of the healthiest foods on the planet. These tiny seeds are an excellent source of protein, omega-3 fatty acids, fiber, and antioxidants.
Because of their nutrients, chia seeds are one of the most popular superfoods in the health community. You can find them in a variety of recipes, such as puddings, oats, smoothies, baked goods, and more!
So, why should you be adding them to your diet? Here are three powerful reasons you should be adding chia seeds to your breakfast, lunch, and dinner…
THREE REASONS CHIA SEEDS BELONG IN YOUR DIET

Don't be fooled by their size - chia seeds are jam-packed with powerful health benefits!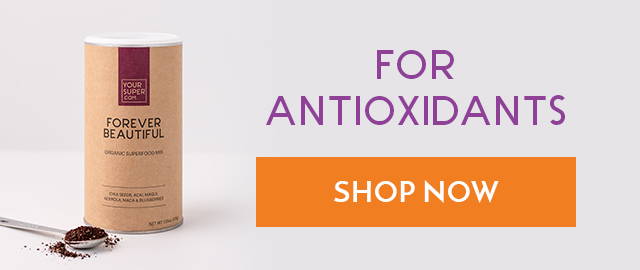 CHIA SEEDS SUPPORT HEALTHY SKIN
*Singing like Mary Poppins* Just a spoonful of chia helps you have beautiful skin! Yes, it's true – chia seeds just might be your answer to glowing, youthful skin. Why? Because they're loaded with antioxidants.
Antioxidants are compounds that help protect your skin from free radical damage and prevent oxidative stress. Think of them as your personal bodyguard, protecting your skin from UV rays, pollution, and smoke. They also encourage cell growth and help reverse some signs of aging.
 Research shows that the high antioxidant content of chia seeds can help stop up to 70 percent of free radical activity! Pretty impressive for a little seed, right? (That's why we added chia seeds to our Forever Beautiful mix – an antioxidant-rich superfood mix that contains your daily value of vitamin C.)
CHIA SEEDS ARE GOOD FOR YOUR HEART
Want to give a little love to your heart? Eat chia seeds! Thanks to their high amount of omega-3 fatty acids – chia seeds are a powerful, heart-healthy food. Omega-3s are polyunsaturated fatty acids found in certain foods, and they play an important role in your health.
Omega-3s have been shown to reduce inflammation, lower resting blood pressure, and decrease LDL, total cholesterol, and triglyceride levels – all contributing risk factors for heart disease.
Several studies have found that daily consumption of omega-3s can reduce your risk of coronary heart disease, and heart attack.
CHIA SEEDS ARE GREAT FOR DIGESTION
Chia seeds are 40% fiber by weight –making them one of the best sources of fiber in the world. But why do you need fiber in your diet? To put it lightly – fiber helps you 'go.' It helps promote regular bowel movements, and reduces the time that waste sits in your intestines.
Adequate fiber intake can prevent constipation, help remove toxins from the body, and promote healthy gut bacteria, which is crucial for a healthy body. Plus, the fiber in chia seeds expands in your stomach and can help you feel fuller for longer.
HOW TO EAT MORE CHIA SEEDS

Eating chia seeds is an easy way to add a whole lot of nutrition to your diet. This tiny, flavorless superfood goes great in just about anything! The average serving size for adults is 2 tablespoons per day, which is all you need to get 4 grams of protein, 9 grams fat, 11 grams of fiber, plus vitamins and minerals.
Sprinkle chia seeds in your yogurt, smoothies, and oatmeal. Or, mix them in your favorite jam, bliss balls, or pudding. There are countless possibilities for enjoying these tiny, nutritious seeds.
But if you're looking to get even more health-supporting benefits, try our Forever Beautiful mix.

This antioxidant-rich mix contains 6 powerful skinfoods – chia seeds, acerola cherry, acai, blueberries, maca, and maqui. Together, they help nourish your skin from the inside out. Plus, one scoop provides you with your daily intake of vitamin C.
---
---
---
Improve your health and hormones with the Superwoman Bundle! Includes a 7-Day Program to start feeling better every day.