STOMACH TROUBLES? YOU MIGHT NEED DIGESTIVE ENZYMES

Digestive enzymes are key to a healthy gut, but what are they and how do they work? Here's everything you need to know...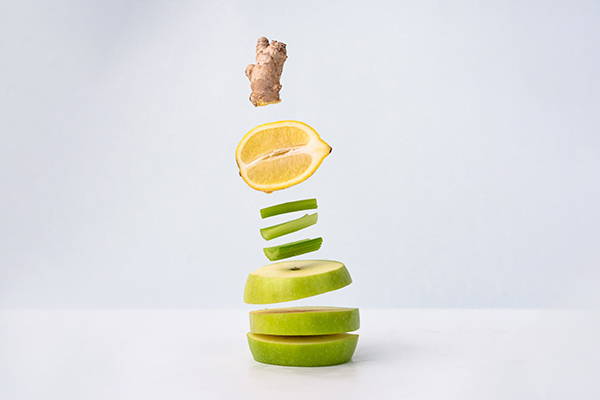 ---
Are you constantly popping antacids or drinking chalky pink liquid to relieve your stomach issues? While it's easy to point the finger at your diet, the problem might be a little deeper.
Frequent bloating, gas, and constipation might mean your body is lacking digestive enzymes…
Here, we break down how digestive enzymes work, why your body needs them, and how to add them to your diet.
WHAT ARE DIGESTIVE ENZYMES?

Your body naturally creates enzymes in your digestive system, including your mouth, stomach, small intestine, and pancreas. They help break down food so your body can soak up all of the nutrients. Without them, the nutrients in your food go unused, essentially leaving you malnourished.
Each digestive enzyme breaks down a specific nutrient, but the most common are:
Amylase: Breaks down starches and carbs

Protease: Breaks down proteins

Lipase: Breaks down fats
Unfortunately, as you age your body produces fewer digestive enzymes, which can cause cramping, gas, diarrhea, food allergies, and chronic digestive issues.
If you find yourself struggling with common digestion issues, it could be time to start adding digestive enzymes to your diet.
---
HOW TO ADD DIGESTIVE ENZYMES TO YOUR DIET

You can find digestive enzymes in a variety of fruits and veggies, such as pineapple, ginger, kiwi, and avocados. When taken daily, digestive enzymes can help reduce bloat, aid digestion, improve food allergies, and of course – boost nutrient absorption.
Studies have shown the best time to take digestive enzymes is before eating a meal. This helps ensure the breakdown of your food, so your gut stays happy and your body stays nourished.
A healthy gut results in so many health benefits, including a stronger immune system, more energy, healthier skin — even balanced hormones. So how do you keep your gut healthy? By filling your diet with digestive enzymes and fiber-rich whole foods. These additions to your diet can help diversify your gut microbiome and promote friendly bacteria.

That's why you need the Grateful Gut Mix. This daily prebiotic superfood mix boosts your digestive health by supporting the growth of healthy bacteria with prebiotic fiber (1 serving = 20% of your daily fiber intake!) and natural digestive enzymes. You can say goodbye to bloat and hello to feeling your best. When taken daily, it'll improve your digestion, metabolism, and overall health — so what are you waiting for?
---
---