EAT CLEAN WITH KRISTEL'S KITCHEN STAPLES

Want to eat healthier, but don't know where to start? Your Super founder Kristel De Groot is sharing her grocery staples and giving you tips on how to begin a plant-based diet.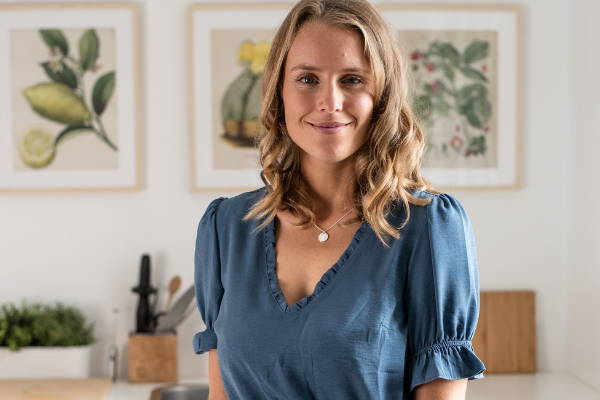 You're not alone if you think being plant-based is easier said than done. One of the most common things I hear is "I want to eat more plants, but I don't know how to start." If adding more whole foods to your diet seems a little daunting, don't worry – we've all been there.
For Michael and I, being plant-based has changed our lives for the better. We have more energy, feel stronger, less bloated... even my skin is healthier! But it wasn't always easy eating this way. I remember we ate the same tomato and zucchini dish for the first 3 months, all while craving our old comfort foods. Our problem? We needed to learn what to shop for and how to cook delicious, yet nutritious food.
Years later, I can say we're pretty confident in the kitchen. In fact, we created a Your Super cookbook with over 100 plant-based recipes. But if you're just starting your health journey, you might be thinking "But what do I buy? How do I fill my fridge and pantry with natural foods?" Today I'm sharing my top healthy pantry and kitchen essentials, to help you navigate the grocery aisles with confidence.
But first, here's a few shopping tips…
"...being healthy isn't about counting calories, it's about counting the number of whole foods on your plate."
When shopping, try to buy organic foods as much as possible. The benefits of eating organic include reduced pesticide exposure, increased nutritional value (e.g. more micronutrients), better taste, and a lower environmental impact. Extra tip: Buy organic with the "Dirty Dozen" aka fruits and vegetables that have the highest amounts of pesticide residue.
Dirty Dozen:
Strawberries

Spinach

Nectarines

Apples

Peaches

Pears

Cherries

Grapes

Celery

Tomatoes

Sweet Bell Peppers

Potatoes
Focus on nourishing your body with real, natural foods. Try to stay clear of artificial sweeteners, highly processed sugars and oils, fillers, gums, GMO'S, and MSG. Does it sound like a chemical? It probably is! Remember to read the ingredient list when buying processed foods, and if you aren't sure about an ingredient, Google it and decide if it's something you want to eat.
It's important to remember that everyone's body is different. Although I feel better eating more whole foods, like fruits and veggies – some people prefer eating more legumes, tofu, and tempeh. And If you're someone who enjoys eating dairy, you may want to give plant-based milk and vegan cheese a try. Experiment and find what you like!
Looking for more healthy tips? Check out our blog for kitchen tips and tricks!
KRISTEL'S VEGAN KITCHEN STAPLES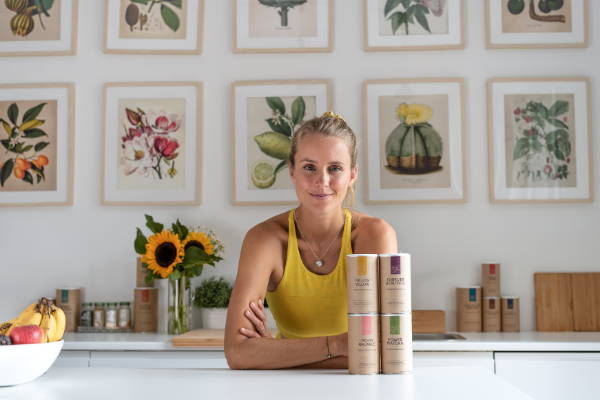 Stock your kitchen with my grocery go-to's! From fruits and veggies to spices and oils – these plant-based essentials will help you eat clean and be happy!
Fresh Produce
(Seasonal fruits and veggies)
-Apples
-Avocados
-Bananas
-Bell peppers
-Broccoli
-Cucumbers
-Garlic
-Ginger
-Kale
-Limes
-Mushrooms
-Onions
-Potatoes
-Romaine lettuce
-Sweet potatoes
-Tomatoes
-Zucchini
Pantry
-Your Super mixes
-Apple cider vinegar
-Balsamic vinegar
-Coconut sugar
-Coconut oil
-Dried fruits
-Nuts
-Nut butter
-Seeds
Grains
-Quick oats
-Brown rice
-Quinoa
-Gluten-Free pasta
Herbs and Spices
-Black pepper
-Chili powder
-Curry powder
-Dried oregano
-Ground Cinnamon
-Ground mustard
-Nutritional Yeast
-Sea salt
Cans and Jars
-Beans
-Tomato paste
-Capers
-Tahini
-Coconut milk
Now that you have your grocery list, it's time to get in the kitchen! There are endless possibilities for tasty plant-based meals using these ingredients – and I promise you'll love every bite. Mix things up with your own creations, or download our app for a free 7-day meal plan. You can also get delicious breakfast, lunch, and dinner recipes on our blog!
Remember, being healthy isn't about counting calories, it's about counting the number of whole foods on your plate. And, when you add superfoods to your diet, you give your body the nutrients it needs to thrive.
Looking for more recommendations? Click here for our favorite books, home supplies, and more!
Take your health into your own hands with the Ultimate Health Bundle! This bundle features 8 functional superfood mixes designed with specific functions and benefits to improve your health.