How Superfoods Can Improve Your Health
When it comes to your health, there isn't one single "magic bullet." Fortunately, there are
superfoods
— powerful plants that can help boost energy, reduce inflammation, improve digestion, and much more. The only question is…
Which superfoods are right for YOU?
At Your Super, our goal is to help everyone live healthier, happier lives with delicious, plant-based superfood mixes that make eating healthy

easy

. But because we know everyone's body is different, we created a simple guide to help you make the best decisions for

your

health.
What Are You Looking For?
#1: Energy
If you're looking for a clean, natural source of energy without the crashes or jitters of high-caffeine drinks, we've got you.

Energy Bomb contains a powerful blend of superfood fruits like acai and guarana to provide you with 6-8 hours of daily energy in every spoonful. Plus, it's easy to mix into smoothies for a great morning "pick me up" or pre-workout drink.
Power Matcha combines high-quality matcha tea powder with energy-supporting superfoods like maca and moringa. Together, these ingredients can help you enjoy clean, steady energy without the caffeine crash.
#2: Digestion
If you experience slow, sluggish digestion... If you deal with gas, bloating, and constipation daily… Or if you just don't feel "regular"... Don't worry.

Gut Feeling contains natural prebiotic fiber to support healthy digestion and make trips to the bathroom far more comfortable. It's also easy to use. Simply add to water, stir, and enjoy!
#3: Inflammation
If you're struggling with constant aches and sluggishness, or if you just feel uncomfortable in your body, then you may be struggling with inflammation.

Fortunately, studies show superfoods like turmeric and ginger can help reduce inflammation in the body so you can experience smoother joints, greater mobility, and more peace of mind.

That's why we included these 2 powerful ingredients (along with four other potent superfoods) in our Golden Mellow Mix. Simply mix Golden Mellow with plant-based milk for a delicious golden latte in the morning or at night.
#4: Immune Health
If you want to keep your body's natural defenses strong, then you want to get the right superfoods into your diet.

Our Super Green Mix contains superfoods rich in immune-supporting antioxidants like wheatgrass, baobab, and moringa. Mix into smoothies or add to water for a quick "health shot."
#5: Healthy Skin
If you're ready to experience smoother-feeling skin, healthier nails, and an overall "glow," we've got superfoods that can help transform the look and feel of your skin from the inside out.

Forever Beautiful combines tropical skin fruits like acai and maqui with other powerful superfoods into a single skin-supporting mix that's great in smoothies, yogurt bowls, oatmeal, or just in water.
Plant Collagen utilizes key superfoods like tocos and tremella to help kickstart your body's natural production of collagen — essential for improving skin health and hydration. (Plus, it has a delicious vanilla taste that works great as a creamer or in a plant milk latte.)
#6: Hormone Health
If you're struggling with bad PMS or if menopause is difficult for you, it could mean your hormones are out of balance.

Moon Balance combines powerful natural superfoods into a single mix designed by women, for women. It uses ingredients like maca and shatavari to help keep you balanced, so you can feel like yourself again. (Great in a latte or even mixed in water for a refreshing hibiscus tea.)
#7: Stress and Sleep
Stress can affect your sleep — which is critical for helping you maintain a strong immune system and a healthy body — and leave you moody and irritable. Fortunately, there are natural superfood solutions.

Magic Mushroom contains a type of superfood called adaptogens (a fancy name for foods that help your body adapt to stress). The adaptogens in this mix can help you easily wind down and sleep soundly at the end of a stressful day. (Delicious as a chocolate latte.)
The ingredients in our Golden Mellow Mix are not only great at helping calm your body, but they can also improve the quality and duration of your sleep. We recommend making a delicious Golden Mellow latte before bed to help you relax and sleep easy.
#8: Mood
If you're experiencing low mood or if you just don't feel like yourself sometimes, superfoods can help! Certain superfoods have been used for centuries to help support a more balanced mood.

One of the most powerful of these superfoods is cacao — the main ingredient in our Chocolate Lover Mix. This mix is perfect for curbing sweet cravings, while also giving you an instant mood boost! (Great in smoothies or shakes!)
#9: Focus
If you regularly experience brain fog or if you feel like you just can't stay focused, you might be tempted to reach for a high-caffeine drink. But while some caffeine can help, too much can cause "jitters" and crashes.

Our Power Matcha mix has just the right amount of caffeine for laser-sharp focus, along with the powerful health benefits of green tea, maca, and moringa. It's perfect in a morning latte or iced for an afternoon pick me up!
#10: Strength and Recovery
If you're looking to build strong muscles or if you need a quality, plant-based protein to help keep you full or aid your workouts, then look no further.

Skinny Protein combines 2 of the best plant proteins— hemp and pea— with 3 other antioxidant-rich green superfoods to help keep you full and aid post-workout recovery. It's also fantastic for making green smoothies!
Our signature Plant Protein Mix has 9 grams of plant protein in every serving and contains a mineral- and vitamin-rich blend of lucuma, maca, and banana. It's a great way to support a healthy metabolism and is fantastic in smoothies and bowls.
Our 30-Day Money-Back Guarantee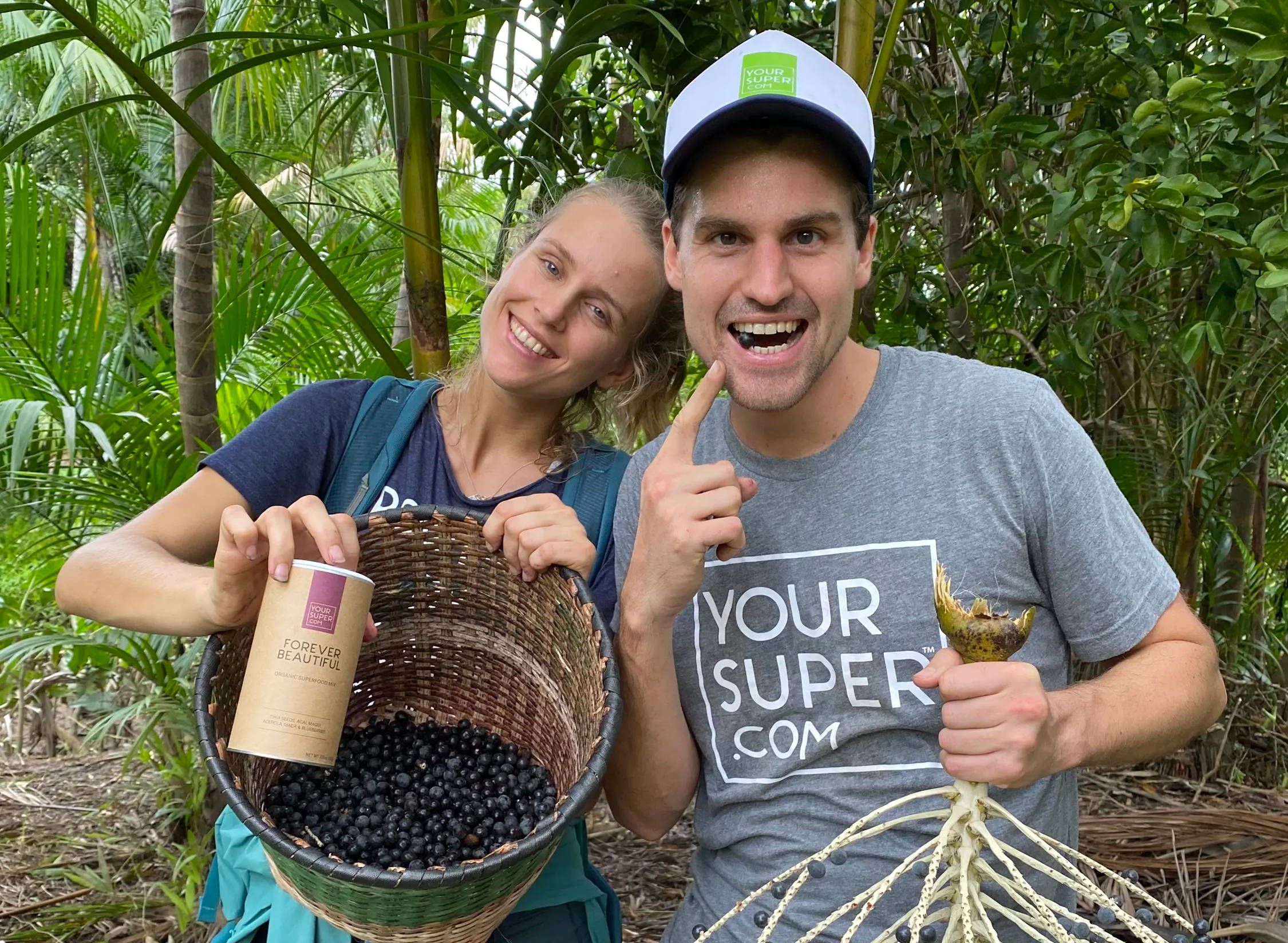 Here at Your Super, we are committed to ensuring every single mix we sell is always USDA Certified Organic, Non-GMO Verified, and contains only the highest-quality superfood ingredients. It's why we never add any sweeteners, fillers, preservatives, gums, or flavorings to our mixes. And it's also why we have every single batch 3rd-party tested for purity and potency, so you can be sure you're always getting ingredients directly from the source and picked at the peak of their freshness.

However, we also know everyone's body is different. And while we're confident you're going to LOVE how you feel after trying our mixes, we also want you to feel like you can try them for yourself completely risk-free. Our 30-Day Money-Back Guarantee means you can try any mix in our collection for a full 30 days, and if you're not feeling healthier and more energized— don't sweat it. Simply call or email our friendly customer service team, and they'll help take care of the rest. It's that easy.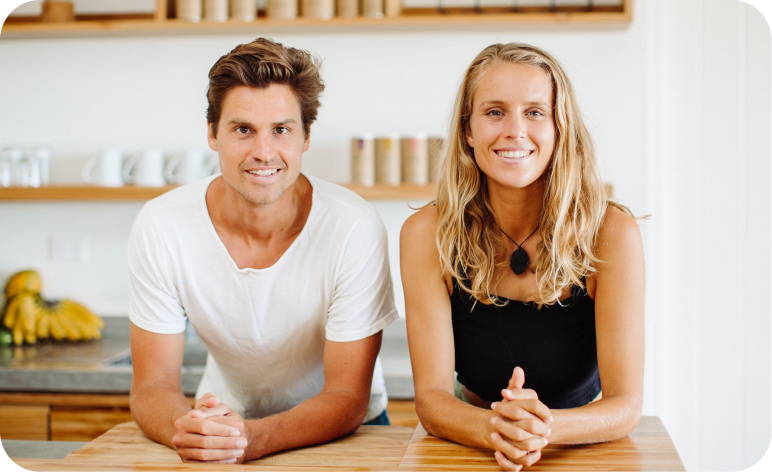 After Michael was diagnosed with cancer at age 24, Kristel made it her mission to help him rebuild his immune system and energy after treatment. With the help of her family of nutritionists, Kristel mixed a variety of superfood powders and was blown away by how quickly Michael regained his strength and energy.
Everyone who tested the mixes began to feel healthier, happier, clearer, and more energized — including Kristel herself. She and Michael decided they had to share these nutrient-dense superfoods with the world, and Your Super was born.